Hi wonderful humans! I am seriously SO beyond excited about this blog post. Can not even being to explain to you. I'm a huge advocate for healthiness in the heart, but I realized I was not really incorporating it into every area of my life. The products I used were a HUGE part of that. Especially the every day ones I didn't think much about like makeup, toothpaste, deodorant, shampoo + conditioner, lotion, makeup remover, etc etc.
Did you know that your face absorbs EVERYTHING you put onto it?! Nuts. I didn't give it much thought and you could for sure have me at a $5 dollar tube of matte lipstick bought on one of those "I only went to Target for one thing" kind of shopping days. Guilty. It is so easy to be that lady. The drug store section of makeup goods and glitter is my go to way of cheating my tomboy heart. And Sephora is overly welcoming and it is so hard not to say yes to samples of everything and get a full on makeover because having people pay attention to you is the best thing EVER. We all know it. We all think it. But do you know what is even cooler? Self-love and self-care. Taking care of ourselves FIRST and actually thinking about what we are putting into and onto our bodies.
We feel guilty when we eat McDonalds and Taco Bell but we don't feel bad when we spend $30 on a tube of lipstick that we have no idea what is filled & made with. Y'all for real; our skin is like a vacuum. It takes in everything it comes into contact with. I finally realized it by posting some random Instagram story asking for advice about switching to all natural makeup. I was just considering it, and was honestly not looking' to hawt in the bank account department but I was feeling really convicted so I just wanted to do some window shopping you know?
So a sweet follower of mine encouraged me to switch and also told me to check out this app called Think Dirty. She said don't get it unless I wanted to be shocked and get into trouble and I was like..what could be so bad?!! Uh...she wasn't kidding. All the poop coconut shampoo's and make up I had been using that I thought were healthy were NOT. I was totally in shock and could not believe some of the chemicals my products were filled with! My bank account didn't even matter at that point I just started throwing out everything.
BEFORE THE SWITCH
Make-up: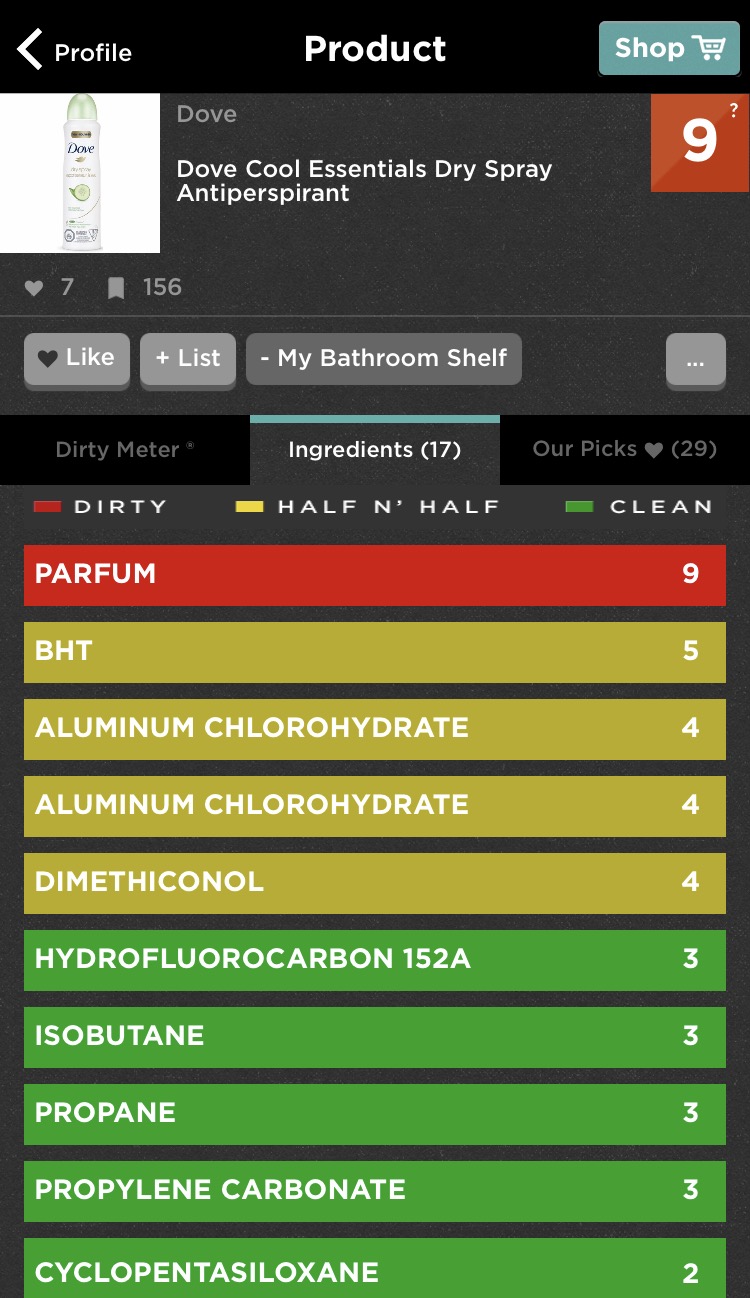 You can just see from my results of things that were advertised as "natural" were actually extremely not natural and were horrible for my body, skin, and hygiene. I don't even need to do much explaining, you can just see for yourself how I was super discouraged in the products I was using and trusting in.
AFTER THE SWITCH TO ALL NATURAL
I started by asking around on Instagram & doing some research to see what products would fit my lifestyle and skin best and started making a list of my favorites. My sweet friend of mine back home from NC, Sammie, who is the most AMAZING natural/ green beauty blogger gave me the best advice and was a huge help. If you want to see all of her faves you can go to her website and see them all!
So after trial and error of some of natural/ green/ vegan products, this is now what I have in my bathroom and make up bag! I love what they have done to my skin. And YES-- I 100% can feel and see a difference. I seriously get compliments about how I look like I'm glowing and my face feels so much lighter and healthy. It has been the most freeing thing.
MAKEUP
Most of the products I am going to be posting about are the ones I am wearing in this photo, just so you can have it for reference! I'll start with the eyes ;)
Mascara: Lily Lolo Vegan Mascara $19.50. Seriously I have been using it for over 2 months and swear by it. Normally my mascara is heavy and will chunk together and is a pain in the booty to get removed off of my face without removing all of my eyelashes in the process. This one goes on so nice and smells so good too and I barely can remember I have mascara on. MY FAVORITE FOREVER. I don't even need to try any other mascaras.
Brows: EcoBrow Defining Wax $26 and Glossier Boy Brow $16. I've been using Glossier's boy brow for awhile now but have been kind of hesitant with Glossier because I'm not 100% sure of how good it actually is for your skin. I know it is better than most products out there and I LOVE that the boy brow doesn't make me look like I painted these ape eyebrows onto my face (sorry y'all it is such a pet peeve to me!!!) It has worked really well and goes with my with my style. I also have been using EcoBrow and LOVE it! I had to buy a separate brush to be able to put it on but it stays on and is so light and is not too much at all. I'm wearing it in the selfie I posted with this blog so you can get a better feel for it!
Eye Shadow: SWIFT SHADOWS by rms $20. I'm not really a big eye shadow user because I really prefer the dainty, natural look for my everyday, but a girl has to have some fun shadows for events and when she is feeling a lil adventurous. I use rms and LOVE rms. They have so many different shades in their swift shadows. Goes on light and not too heavy and stays on for a really long time! Also pictured on the top right is the Master Mixer by rms. I put it on my lids and it gives it this beautiful rose gold tone. I like it because it's more of matte kind of eyeshadow so it's not so dry when you put it on.
Illuminator: Champagne Rose Luminizer by rms $38. I wasn't really a big illuminator user until recently because I didn't quite understand the purpose of it. I use it in the corners of my eyes, onto of my lips, and to highlight my cheek bones. It's actually one of my favorite makeup pieces because it really gives you that natural-glow look.
Blush: Lily Lolo Coralista Cheek Duo $24. I am 100% a coral and peach kind of lady when it comes it blush. I want something that will go on easy and not make me light and airy. I feel like coral does that for my skin, even more so when I am tan in the summer. This set up from Lily Lolo is amazing too because it has two options for the kind of look you want to go for with your blush for the day!
Lips: Ilia Tinted Lip Conditioner with SPF (in Bombora) $26 and Kari Gran Lip Whip $16. In the photo I posted of myself I am wearing the Ilia in Bombora and have been wearing that pretty much every day since I received it. It is super comfy and makes all my outfits come together. I really, really love Kari Gran's lip whip too. It's a lot more subtle but it taste so yummy and is a good option if you don't like too much color on your lips!
Daily Skincare Routine
Daytime. Putting all the fun makeup to the side for a minute, I truly believe that the most important part about your skin is the oils and daily creams you are using to moisturize your skin. Making the switch has been amazing for me and I think that the area that I have seen the best results in, is in the area of switching my moisturizers. These three guys pictured above have worked amazingly for me. I have only been using the middle one for a few weeks now but the results have been unreal.
Nighttime. What you put on before you go to bed really has a huge affect on what your skin will look like in the daytime too. I know for sure I wasn't really paying much attention to what I was doing before I went to sleep because it didn't feel like it mattered in a sense. When you are sleeping, your skin gets to take in all of the nutrients and gets to sit on what you put onto your skin. So you better make it count! With trial and error I really figured out what works for me. And the best part is-- is that my night time routine is all from a local Chicago company called Scratch Goods!
Cleansing Oil $14. I use this to take off my make up. I just rub a little bit in the palm of my hand, rub upward and use a warm wash cloth to remove all of my make up before I put my mask on or oils on.
Night Face Oil $28. I love their Night Oil and seriously put it on every night before I get into bed. It can also be used as a daytime moisturizer if you wanted to! I was doing that for awhile before I found my moisturizer I am using now. They only call it Nighttime because it is a little bit heavier than their daytime oil.
Lash + Brow Oil $18. I put a little bit of this on my brows, lashes, and lids and it has been doing wonders to my hair growth and how soft my skin is getting!
Other goodies have been incorporated into my everyday and they have been AMAZING as well!
dōTERRA Touch: On Guard $28 and Lavender $18. On Guard is a protective blend that helps fight away sickness and seasonal threats and also has a super uplifting aroma that I find addicting. I put it on my wrists and near my nose when I am working on the plane to keep me protected from germs and any sickness that could be floating around. I also use the Lavendar roll on before I go to bed to calm my spirit and get me relaxed so I am able to go to bed peacefully. I roll it on my throat and on the bottoms of my feet and just absolutely swear by it.
Biotin 10,000. I just picked this up at the local drug store. I was so tired of my hair not really growing and ever since I have been taking this daily my hair has actually been growing. I've also seen my nails become super strong as well.
dōTERRA Root To Tip Serum $46. Ever since using this product and not washing my hair as much, it has become smooth, shiny, and smells like the best smelling smells I could ever dream of.
True Botanicals Body Lotion in Fresh (Travel Size) $14 or you can get a full bottle for $42. All you need to do is smell it and then start paying attention to how soft your body gets. But Mostly the smell. That's all. You will thank me later.
Toothpaste: Dr Bronner's Peppermint Toothpaste
The Seaweed Bath Co. Eucalyptus & Peppermint Balancing Aragon Shampoo + Conditioner $13.
Natural Deodorant: It has been a process to figure what actually works for me. I am on my third brand now and will be letting y'all know what I end up using. It is one heck of an adventure that's for sure.
I know that this is a huge blog post, but this has been the journey I have been on for the past couple of months. I could not be any happier with the changes I have made and I actually can see the results everyday It's not just a mental thing as much as it is a physical thing. I feel healthier, look healthier and actually GLOW. My skin is light and airy and can actually breathe. If there is any questions I can answer, please feel free to reach out to me via Instagram or on the contact page on my blog!
P.s. I know some of you know I work with brands and get things for free. I wanted to clarify that a lot of these products I bought on my own time and with my own money. Some of them I did get for free, yes, but I actually believe in them and support them. I wouldn't be telling others about them if I didn't.
Wanted to leave you beauties with aa discount code from where a lot of my products came from over at Joy Provisons. When checking out just use the code 'TAY20' at check out to get 20% off your orders! xx